If you have been keeping up with your knitblog reading of late, then you already know what this means: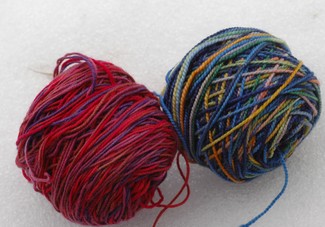 whatever could this be?
I have recently become the type of person who enjoys wearing a scarf as an accessory, not just as a utilitarian object that keeps me warm. I have been wearing my crocheted rib scarf and the Silk Garden scarf that A (Soapbox) made me all the time and thinking that maybe I should knit myself a few more fun scarves for wear as accessory.
The thing is — I really don't like knitting scarves.
But I have been gazing longingly at the Chevron scarves popping up all over blogdom (flickr group; Maritza's; Ashley's; Nona's; kelp!'s; Staci's– among others) and since I have a plethora of sock yarn stash, I must have something that will work.
I found myself drawn to the scarves that combine colorways that don't necessarily scream out that they match. The ones where the tone of the two colorways is not the same. The ones that my technical and conservative-with-color brain would never put together. I made it a goal of mine to attempt to do the same thing: put two colorways together that I never would think to do so.
I'm not sure how I feel about it.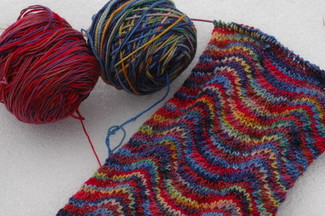 chevron scarf
Sometimes I look at it and think how colorful and bright and fun it is.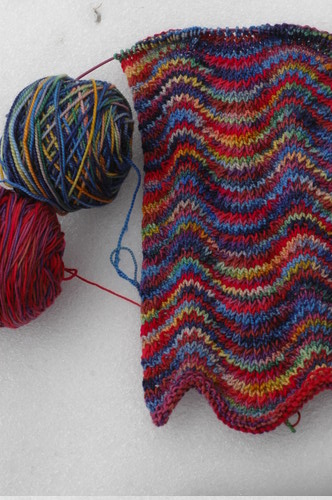 the scarf is so bright, I gotta wear shades
Other times I look at it and think it is a garish piece of trashy knitwear.
I think I like it overall, as a fun accessory. Worst case I wear it reverse side out — it's a bit more muted that way.
[For the curious: the yarn is Artyarns Ultramerino 4 in #111 (pink/purple/brown -- I thought it was red when I bought it), and Koigu frogged from a sock toe I disliked.]