Last week my poor cat Claw got sick on my Celtic Dreams. I was a little upset and worried — mostly about Claw, but also about the sweater.
However, Claw is resilient and so is wool. Both cat and sweater are doing just fine now, thanks!
Returning to Celtic Dreams was like, well, a dream.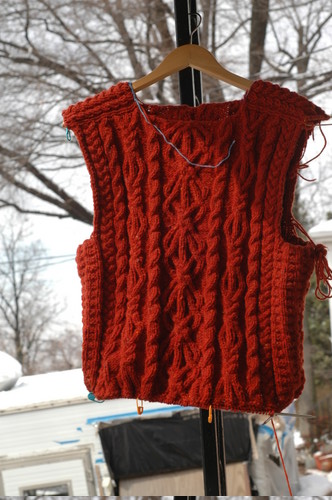 I am so close to finishing the body!
I am enjoying this knit an incredible amount. Yes, it does take me a week to finish each 24 round repeat on the body. It's still measurable progress and I am not at all bored with this knit yet. Amazing for fickle, easily bored me.
The other amazing part is that after I completed the fifth body repeat, I slipped half of the stitches to a spare circular needle and tried it on to make sure that the length and body fit were right. Even better — they are just about perfect (note: technically the length was a bit short at the time I tried it on, but since I knew there was one more repeat for the skirt, it will be right once I finish it).
I am very happy I questioned myself and did not make the largest size but rather the second largest size. I may be getting a little better at this "making the right size for me" thing.
This week is going to be busy with Caps games, a Wizards game, and ice skating but I hope that I can finish the body this week and move onto the neckline and sleeves. I don't expect I will get to wear this sweater this winter, but it will be nice to have it ready to go for the fall, especially given the gorgeous orangey-red shade it is!