In between working on Celtic Dreams, I have been working on my first sock from my Great Balls of Fire handspun.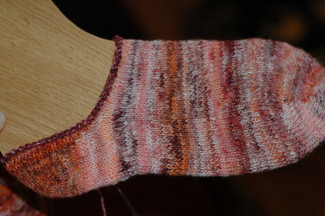 just past the heel
I'm still enjoying knitting this yarn, despite the very plain stockinette on US0. I am magic looping it with Knit Picks circulars — my favorite cable on all circular needles now. No ladders, either.
I have a crazy love for this crazy soft sock, despite what I see as the shortcomings of my spinning.
[I like being able to see where I can make advances and learn new things, so seeing what I need to work on in my spinning is a good thing for me.]
But now, back to CD.