Schedule, daylight, camera, and locale have all conspired against me this week.
But here's a teaser brought to you by manmade light (horrors!) and a spare 20 minutes in between taking care of the pets and heading out to SiL's1 birthday dinner: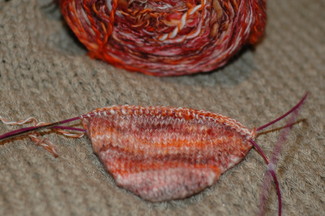 that is my handspun! and a sock toe. whooo!


manos top-down cardi, the backup project to Celtic Dreams

I am so pleased and excited about the sock yarn I spun (that sock is being knit on US 0!) though I am also looking at the yarn and thinking about how much practice I need plying. And maybe actually spinning all bobbins the same thickness!
The Manos looks absolutely fantastic in seed stitch. I am a little concerned about the size of it right now, but I think it will work out. The purl rows are getting me down though (already!).
1 SiL finished her first knit project over the weekend! It is a ribbed scarf in Patons Classic Wool. She even bound off in pattern. I am duly impressed. She did a great job! I am going to try to get a picture of her in it later.