On Friday, I came home to my first check from a pattern I designed.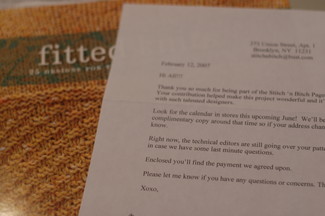 paid! DH said it was like a penny a minute.
I am not going to quit my day job anytime soon, but it is still very cool.
On Friday, I finally managed to find Stefanie Japel's (Glampyre Knits) new book, Fitted Knits.
I am daydreaming about a number of patterns in it. Currently the one at the top is this crazy mohair tie wrap sweater. The yarn specified in the pattern would not cost much to make, but I am not crazy about any of the colors (except perhaps black). I'll try to write a full review on the book later.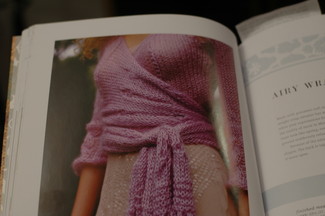 airy wrap sweater – but would I wear it?
On Friday, I concluded that I am not enjoying this koigu colorway at all. Oh well. The toe will be ripped and I may offer this yarn up for trade (I have three hanks).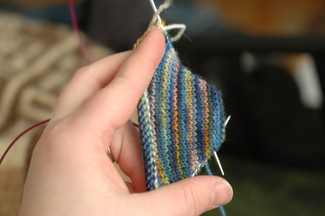 boo koigu
On Sunday when I took these pictures, I was very lazy.
Later this week: CD progress, startitis strikes, and I finish a spinning project!