The storm that went through the midwest and up the east coast hit here on Tuesday and we ended up with about 3 inches of snow-sleet-ice. I worked from home yesterday and while I intended to go into the office today, my car is currently adhered to the road in front of my house. Despite my better intentions, I worked from home today as well.
This side benefit to this is that at lunchtime, I decided that I needed a Calorimetry to wear ice skating. I remembered that I had a lone ball of Noro Silk Garden in my "miscellaneous wool-blend yarn" stash box. E (Poking My Eyes Out) gave it to me — in typical Noro fashion, it was the one ball of the colorway and dye lot that she purchased that just didn't fit in. Who am I to decline Noro?
Calorimetry was such a fast knit that I finished it at lunchtime!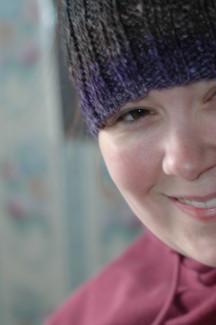 that single digit windchill kept me inside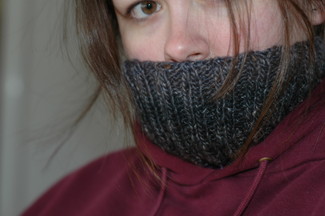 look, it works as a neckwarmer, too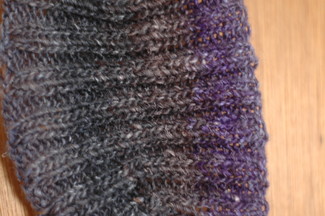 a closeup of the colorway – yum
I cast on 80 stitches instead of the 120 specified in the pattern and I think I only worked 7 short rows per side. I also picked up the short rows so that I did not have holes — the pattern method does create holes, it was a design feature. I created a yarnover buttonhole and found a random purple button in the buttonbag for it.
It took less than an hour to knit. It fits, but it could perhaps use another 1/2″ or so of length. Luckily I wanted it tighter, not more loose.
I'm not sure I will wear it much now that it's done. I do hope to wear it ice skating so I can keep my ears warm and still have my hair up in a ponytail.
In other fun things, I received a package from E earlier this week. Of course, it's her birthday week so she sends me something! That makes sense, right?
E and I worked out a trade: she took the Malabrigo leftovers from my Licorice Whip (4 full hanks + 2/3 hank) and a bunch of Addi Turbos that I no longer need, and she sent me 8 hanks of Manos in Bing Cherry.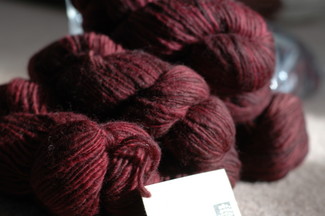 mm mm manos

Except that wasn't all she sent me! That cheater!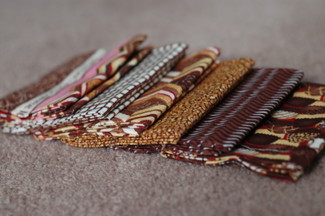 a fat quarter collection
Yum, fabric! I am thinking about a small quilt top throw with these fat quarters. We'll see! I'm still afraid of quilting (though I love quilts). I think it would be very cute though!
As for the Manos, I am thinking about making a top-down cardigan similar to Laura's (cosmicpluto knits!) "easy and top down raglan cardigan." Seed stitch edgings, maybe some other details in there. I am contemplating how one would add short rows bust shaping to a cardigan…