When you are stuck in bed unable to code or design a new database schema, much less cable a sweater, sometimes you can still knit something small and plain in the round.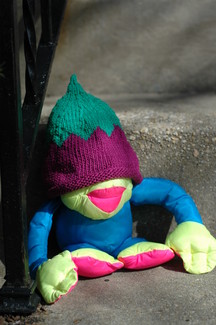 a raspberry, plum, grape, or eggplant? I'll let the parents decide.
my monkey rules. thanks, Moo!
I don't think I like this one nearly as much as the strawberry or tomato hats I've made, but I did adjust the pattern for a smaller head and I made up the crown decreases. I think the pattern version is better!
Still, I think the parents (a coworker and his wife) will approve and enjoy it for their newborn girl.
---
Some days you need cheering up by way of red sneakers and stripey handknit socks.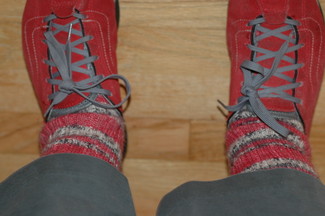 pants pulled up for photo-taking only
Today is one of those days.