First, hop over to Soapbox and wish A a happy birthday! She is holdng a contest — have a great day today, then tell her about it, and possibly win some sock yarn! I'm hoping that she'll have a great day today as well.
Secondly, Kristin (Kristin Knits!) left me a comment to post about my Celtic Dreams. I know I was a very negligent blogger last week!
Anyway, I didn't get to work on CD much this week, but I am finally almost through the third body repeat.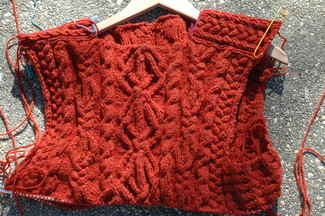 celtic dreams body, 2 rows left on third repeat
Third, I ordered some additional cables and needle tips from Knit Picks and they finally arrived last week. I ordered a 47″ cable so that I could put DH's sweater on a longer needle.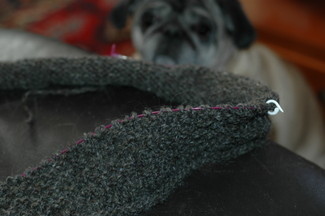 boris inspects DH's sweater
Except when I put the sweater on the new cable, I discovered that my gauge was a lie. I pulled the sweater bottom over DH's head and held it at his waist. There was what I would call 8-12″ of ease there. Yes, eight to twelve inches of ease. Ugh.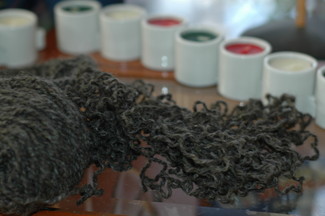 a-frogging we will go
DH was a little cranky after the trying on. "Does this mean you have to rip it out again?" "Can't you just taper in now and leave the bottom wide?"
Sorry honey, but no. I will have to restart this sweater soon.
My fourth and final point: I hate the new Interweave Knits layout. It is similar to Vogue Knitting and Rowan, where they have "themes" and showcase a subset of the patterns together, and then have the pattern writeup at the back of the magazine. I dislike this method generally, but at least VK and Rowan do it well.
The problem with IK is that they did not do it well. It is hard to tell what is an advertisement and what is the new pattern groupings. Also, the way they grouped the patterns together in this particular issue is ridiculous — "Plum Cake"?! There seem to be fewer images of the projects, the pattern writeup is separated over pages with advertisements thrown in (making it easier to miss a part of a pattern — this happened infrequently with the old layout), and it's easier for me to miss a pattern now.
It probably doesn't help that I really only see two patterns here that I like enough to make — Grumperina's socks and the Bauhaus Fair Isle. I do like Jodi Green's pattern and Véronik Avery's pattern as well, but I can't see myself making either of them.
IK and Spin-Off are the only two crafting magazines I am subscribed to these days. I gave up on Rowan and VK — they seldom have a pattern that I must make, so I only pick them up as needed. I hope this does not mean that I will have to drop my IK subscription when renewal comes up in the fall.