I am incredibly in love with this sweater! It is warm without being too warm, and it is super soft, and I knit it at a gauge such that it doesn't seem to be pilling much yet (only fuzzing a little, as I would expect from merino). I do have to wear a tank or cami under it, but I don't mind, and that doesn't add too much extra bulk.
I wore it out to dim sum on Sunday and enjoyed every second.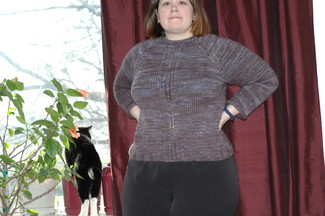 I am making a funny face while Claw climbs into her pot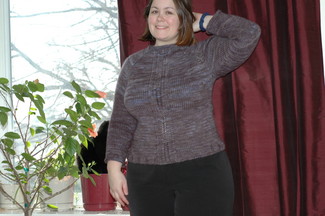 I love this sweater and I am getting used to the new haircut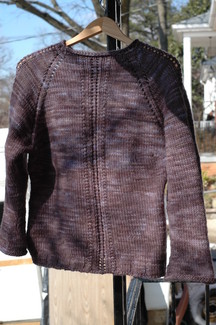 licorice whip hanging outside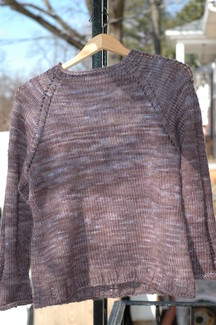 the back of licorice whip
you can see the extra length on the front here due to the short row bust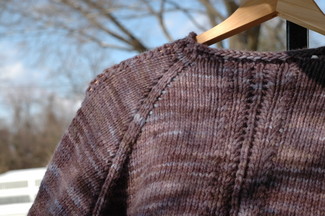 a detail shot of the shoulder and center lace pattern
I just noticed at lunchtime today that one sleeve is a completely different color than the rest of the sweater (you know, that whole no dye lot kettle dyed yarn thing). I don't think it bothers me but it was amusing that I didn't notice it at all until today!
I haven't washed or blocked the sweater yet [!]. I am going to see if I can block the sleeves a touch longer. If not, I plan to lengthen them by about 2″. Otherwise, I am happy with the fit (which I know is a lot more fitted than some people like, but I love fitted).
Pattern:



Licorice Whip by Jen Paulousky of Blue Alvarez Designs (free pattern)



Size:



44″ by the pattern, but at the bust it's 18.5″ across (37″), at the hip it's 20.5″ across (41″). The waist is 17″ across (34″). This is why it is so form fitting! I actually started out making the 44″ size, but I guess my gauge was off and since I was trying the sweater on throughout the process, I didn't worry too much about my gauge since I knew the sweater fit!



Yarn:



Malabrigo/Handpaintedyarns.com 6 Ply Bulky Merino in Pearl Ten (now called Merino Bulky Persefone).

I have 3 untouched 100g hanks left over, plus another 100g split over three remains. I suspect I may have another ball around the house somewhere. I believe I am trading the leftovers to E (Poking My Eyes Out) along with some needles — right E? ;)




Needles:



Knit Picks Options, US9 for the entire sweater. I magic looped the sleeves and the yoke out of laziness and it was my best experience with magic loop. I'm not sure if that was because it was a bigger yarn than I have attempted magic loop with before or if it is because of the KP needles. I adore these needles.



Started-Finished:



17 November 2006 – 19 January 2007, but really not that much time to knit



Modifications:



Lots!

I used the Russian join because one of the things I hate about my green ribby top is that you can tell where I joined the yarn. There are no seams to hide ends in this sweater, but I didn't want to be able to tell where the joins were. I tried a spit-splice but I just have better luck with the Russian join.

I modified the numbers in the Blue Alvarez pattern because it would have resulted in an off-center lace panel (I posted the details about that here). I also didn't follow the pattern much at all beyond that, aside from following the stitch pattern for the lace on the sleeves and center.

I added short-row bust shaping based upon using the nifty calculations in Big Girl Knits (BGK has one or two patterns I really like, but my favorite part is the front of the book with all of the details and suggestions about sizing and adjusting patterns to fit ME better). I actually wasn't sure about actually knitting the short rows because the instructions given in the book for how to do it were bottom-up and I was working top down. But I sat down with some yarn and I swatched the shape I needed and the way I had to work it. I realized then that I knew how to do it and it wasn't going to be a problem!

Now I feel confident that I can add short row bust shaping to many garments (aside from stranded ones). This also means that I can stop knitting based upon bust size (which usually ends up with my having a sweater too large in the waist area, even if I do additional waist decreases) and probably knit another size or two smaller, but add bust shaping. This makes me happy.

[I was explaining this to DH this morning based upon the button-down shirt I am wearing. I have to buy button-down shirts to fit in the bust... which means the rest of the shirt is huge. I could/should get them tailored, but I am too cheap/lazy to do so. However, in knitting, I can do this myself, which makes me very, very happy.]

I also didn't do a rolled edge to match the sleeves and collar. This is because I wanted a more defined line there, and didn't want to add extra bulk to my hips. I wasn't going to rib it but after messing with a number of different edgings, this wide rib is what looked the best. I did work the center lace panel all the way to the cast-off edge, however, and I love how that works.
I love it now, but we'll see how it fares with wear. I am a little concerned since it is super soft merino. I'm hoping that my knitting it at such a tight gauge will help it last (and also help it fit me longer as I am slowly shrinking).
It's a very simple pattern but it was the best way to show this yarn off. I wanted something a little more interesting than a plain raglan, but I also knew that cables would probably not pop well, and a complicated lace pattern would also not look right. As I've said, I am incredibly happy with this sweater overall. And for once, it's not too big! Hooray!
Also: stashbuster! Love it.