After enjoying a bowl of Roasted Red Pepper, Leek, and Potato soup (a CIA recipe), I sat in bed and watched last week's episodes of CSI and Grey's Anatomy and managed to finish the first sleeve of my malabrigo Licorice Whip.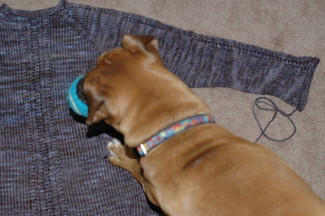 "this is a new dog bed for me to chew on my tennis ball on, right?"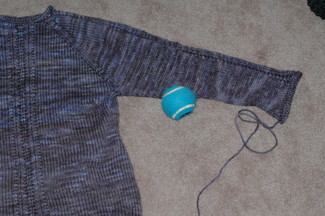 "no? well, I'll just leave my ball here in case you change your mind"
I winged the sleeve and worked decreases every 6th row for the most part. I then decided to work some increases so there is a very slightly flared cuff. I am happy with the length, fit, and look of the sleeve (yes, I have short arms and like longer sleeves). I love top-down sweaters — I am happy that I can try the sweater on throughout the process to see how it is fitting. Though that leads to me wanting to try it on after every 3 rounds which really hinders the knitting process!
[I am also going to have probably half of the yarn left over from this sweater. Oops.]
Ging and Claw seem to be fighting over this sweater. Every time I leave it alone for a second, I find one of them atop it. Even DH said, "can you hurry up and finish that sweater so you can work on my sweater?"
On a personal note, never deny the restorative properties of knitting with wool (see Juno's post from yesterday where she says, "Wool takes care of us, I really believe that." Me, too.). This is a hard time of year for me — Sunday was my father's birthday and today is the anniversary of his death. I have spent the past few days cooking, knitting (DH's hat, my sweater), and going ice skating, all tasks that make me feel rejuvenated in spite of the sad side note.