I have three sweaters on my mind right now. I'll elaborate on each of them over the next few days, but this sweater is the one I have been working on while thinking about the other three — it's the fourth, the one that doesn't need any thought.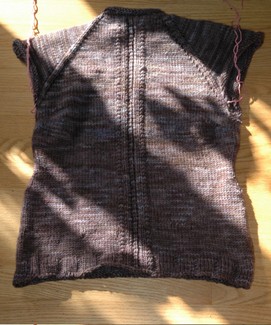 mmm! malabrigo licorice whip in goofy lighting
I finally finished the body of my licorice whip! I tinkered with the length and the hem, and finally gave up and added more ribbing where I originally did not want to rib. I'm happy with it now, however, but there was a lot of laddering and changing knits to purls last night! Tedious work.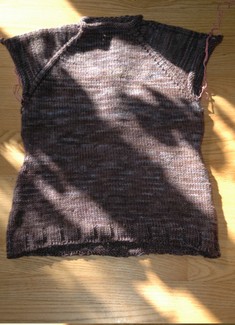 licorice whip back: see how the front is longer at the hem?
If you look at this picture of the back, you can see how the hemline of the front is longer than that of the back. This is the short-row bust shaping. That extra length doesn't look like much here, but it is well-used by my shape and I totally love the fit (perhaps a bit more form fitting than I had in mind, but it's fine).
With the completion of the body, it's onto sleeve island for me. Before I start the sleeves, I get to cast on one of the three sweaters on my mind — I made a promise!
Unrelated, but cute: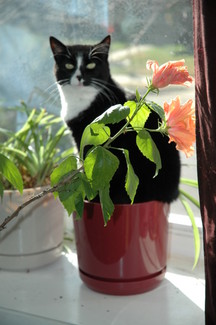 claw is sitting on a spider plant
My hibiscus bloomed (and needs water dreadfully), but the funniest part here is Claw. She likes to sit on top of the plant in that pot — it's just a garden variety spider plant. She's not in pain or anything, she just likes it. It is totally weird and while I don't want her ruining my plants (I do a good enough job of that myself!), I can't help but snicker every time I catch her sitting in the pot.