DH called me a sweater machine last night. I didn't point him to the real sweater machine as I should have, but I guess I did make some progress over the weekend: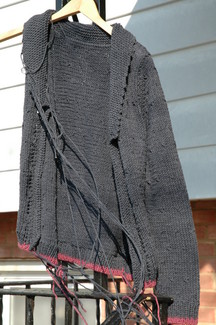 Sienna Cardigan with lots of mods, half-seamed
Sienna is my top priority right now since Christmas is in a week! I obviously need to seam in the other sleeve (I am fighting with these sleeve caps and armscyes, let me tell you) and weave in ends. Then I have grosgrain ribbon to hand-sew to the underside of the button band. I still need to go buy some matching thread for this.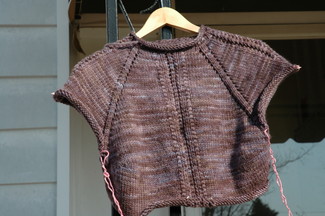 licorice whip in Malabrigo, body almost complete
Licorice Whip is my mindless knit round and round project. The short row bust shaping works and looks great, though I think I may have added an inch more length than I needed to for the bust. I need to figure out what I am going to change the hemline to, but until then, I just knit round and round for another 8″ or so.
I will finish Sienna this week, and I may be able to finish Licorice Whip by New Year's. Hooray!