Hi, my name is jess and it's been one week since my last post…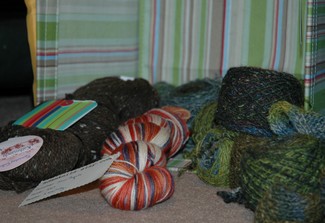 stash enhancement
Stories, left to right:
You know how when someone brings a food item to your house and leaves the dish, you are not supposed to return the dish to them empty? I liken this yarn to that.

See, when E (Poking My Eyes Out) was visiting us at Thanksgiving, I lent her a yarn needle to seam the gorgeous brown tweed vest for her dad. She mailed it back to me, but of course she could not mail it back without including something else! That something else was a couple of balls of the very same brown tweed that the vest was in. Yum! I haven't decided what to do with it yet. Another beret? Fingerless mitts? A thin scarf? The possibilities are endless. Brown tweed!


This is gorgeous yarn from Adam of Adam Knits (adamknits.etsy.com), one of my favorite like-minded geeky knitbloggers! He held a contest on his birthday weekend to guess his age. I was one of a number of people who guessed the correct age, and I was one of a couple of people who won a hank of this gorgeous yarn he dyed. Lucky me!

Even better is that this colorway of his was inspired by one of his favorite bands — and a band I like — Over the Rhine. You can easily see how the yarn there is definitely inspired by the cover of the new OtR album! Very awesome, very talented! Thanks, Adam!


Inspired by Lolly's (LollyKnitting Around) reclaimed yarn from now-ex-sweaters, I thought about the sweaters I made that I never wear. Top on that list — my Klaralund. I love the yarn, but the sweater was too large to begin with, and as I've shrunk a bit, I simply can't wear the sweater anymore. So I spent a few hours unseaming and ripping Klaralund (which was a lot more difficult than I expected and Silk Garden is much sticker than I remember, so perhaps I can steek it).

I have been inspired by this gorgeous, happy sweater over at another knitting blog, and I am considering turning the recovered Klaralund yarn into a similar sweater (only most likely a top-down seamless raglan). We'll see what happens…

I am sure you recognize these from the book (Handknit Holidays) or from around blogland: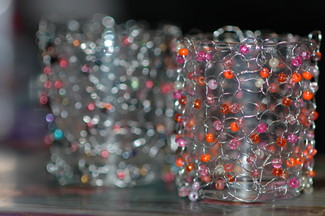 mmm beads and wire
I'm not sure what it was– possibly the need to finish something after all of that Klaralund ripping. I happened to have 24 gauge wire and plenty of beads around the house, so I decided to make one knit votive sleeve to see how it looked.
I ended up liking it enough that I bought more beads (ahem) and concocted a crazy scheme to finish a bunch of these. But, no pressure. After all, if the mighty Grumperina becomes a blister while knitting them, I better be careful!
[I am using 24ga wire, lots of czech glass beads, and 2 US8 aluminum dpns. Each one takes me about an hour to make. I could not find 26ga wire anywhere and while I did pick up some 28ga wire, I think that is definitely going to be too thin and brittle for knitting.]
Last night, I needed something soft and squishy to knit. I also needed some math to calm my brain down. Serendipitously, my Licorice Whip in Malabrigo was sitting right atop my bedside table with my copy of Big Girl Knits and a whole page full of measurements.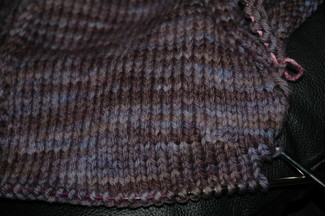 can you see the bust shaping?
I calculated how many inches of additional length I needed in front, how wide the section should be and from that I calculated the starting number of stitches and how many rows I needed. I then reversed the directions from Big Girl Knits because it only describes how to work short row busts from the bottom up and I am working top-down.
It seems to look correct. I have one more set of pairs to knit and then I am back to working in the round. I will be slipping it to waste yarn and trying it on to see if it does fit properly. If so, this may be the magic solution to sweater fit for me!
I love the Malabrigo and I am very happy with this sweater so far. DH realized last night that I was on the body below the underarm last night and he asked me if I would start the sleeves at the cuff and knit them, then attach them to the live stitches. I said no, that I would knit them from the body down. He looked at me and said, "oh! So it will be seamless! That is cool!"
[technically it will not really be seamless, but very close.]
Heh. Maybe I will rip out the 18″ I have completed on the back of his sweater and switch to making his sweater an EZ seamless hybrid a la Jared… I will consider it.