This is a few days late but I am recovering from the fun company we had for Thanksgiving, a chest cold turn bronchitis, and a bruised knee (slamming one's knee into the boards on ice skates is not something I recommend, in case you were wondering).
Thanks to A (of Soapbox) who picked up this very cute sheep ornament at Rhinebeck a few weeks ago and sent it along! I love it! Thanks, A!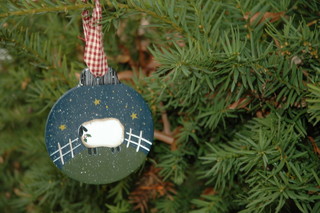 baaaaaa…
Then from Annie (Annie Knits), I received a ball of OnLine Highland sock yarn and a really cute card — just for voting and commenting on her blog that I voted on Election Day. I've never knit with the OnLine sock yarns, and this colorway is perfect for a family member! Love it. Thanks, Annie!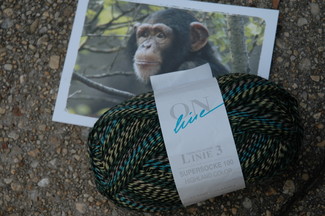 I voted, I won yarn: what a deal!
Less than a month left, and I have finally started — well, not even really started, just cast-on — Eunny Jang's Deep V Argyle Vest.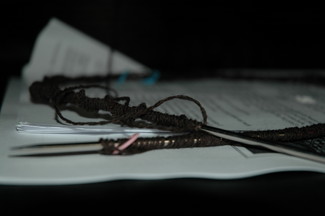 no bets on whether this will be completed or not, please
I am making a size 42″ or so, but since my yarn is more like sport weight, I am actually following the 54″ size (I did the math and it's right). This means that I cast on 144 stitches, 3 stitches for a side seam, 144 stitches, and 3 more stitches. That is almost 300 stitches around at the hip.
I am a little concerned. Will I be able to finish and steek this by 24 December? I am skeptical… time will tell!