I started Licorice Whip (for me!) in a fit of needing a large mindless knit. Raglans in the round of the top-down variety? Perfect and mindless — you knit round and round, increasing, put the sleeve stitches on waste yarn and eventually you have a completed sweater. Perfect!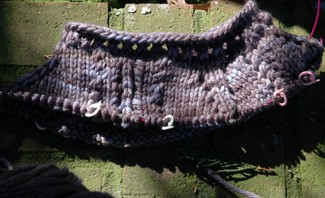 take two
I like the pattern, and I think I like how it looks in this yarn (Malabrigo/Handpaintedyarns.com Bulky 6 Ply in Pearl Ten, on US9 Knit Picks Options). I was concerned about working a pattern in this yarn, but I wanted a little bit of visual interest, so I am pleased.
It hasn't been completely mindless as I did have to mess with the numbers for the size I'm making (L, 44″). The way the pattern specifies the cast-on numbers, you end up with the center lace panel not centered. I need symmetry!
For all of the sizes other than XXXS and XXS, the numbers appear to need to be adjusted for the front and back to an odd number since the front stitch pattern is 11 stitches wide. If you don't adjust them to an odd number, the lace panel will be off-center and I don't think that was intended to be a design element of this pattern.
For the L size, the pattern specifies to CO 60 stitches and split it up as 20, 10, 20, 10. Then you end up knitting 6 stitches, starting a 11 stitch pattern, and ending that section (what is the front piece of the raglan) with 3 stitches. This makes the center lace panel off center by 1.5 stitches – which is significant at this gauge.
So I ripped back and adjusted: I CO 62 stitches and split it up: 21, 10, 21, 10. I knit 5 stitches, started the 11-stitch center panel, knit 5 stitches. This way the center lace pattern is centered on the front of the sweater. Similar changes could be made for all of the sizes that have issues.
The malabrigo is absolutely lovely to work with. It's so soft, only a touch splitty, and I am so happy with the purple with grey-brown undertones (I thought it was REALLY UGLY when I first received it – not anymore). Yum.