When I wrote up my yarn diet rules and regulations, I did
(semi-intentionally) created some loopholes.
One of those loopholes has to do with buying yarn for others. Yarn
purchases are allowable if it is for a gift.
That loophole lead to this being in my possession currently: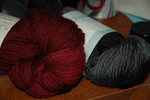 alt="araucania nature wool" title="araucania nature wool"
border="2">

araucania nature wool, aran and chunky

Eda at Poking My Eyes
Out asked me to pick up one of each since she is considering the
Araucania Nature Wool Chunky for a sweater for her lovely mom. AC Moore,
one of my local craft stores, carries this yarn, so I could pick it up
in person since I had to go there for dpns in an appropriate size. I
picked up one hank of aran (doesn't look like aran), and one hank of
chunky.
[I will freely admit that between href="http://noricum.blogspot.com/">A's (of Soapbox) Olympic Sweater
and Katie's
(of jejune) Mariah, I had to have a red shade of the supposedly aran
weight Araucania. Even if just to swatch. I sure love me some red!]
The loophole is — this does not count against my yarn diet. I am
winding these and then shipping them to Eda. A "gift" for her, but I also
get to pet and swatch and enjoy in this very small, non-garment-sized
dose.
Am I a cheater? Maybe a little. I see it more as continuing to be an
enabler while I am on my stashbusting yarn expedition. I am a
fantastic yarn enabler, after all. I can't just stop enabling
other people because I'm on a yarn diet!