Sometimes the rest of life gets in the way of crafting. Sometimes it's positive things (DIY home renovations, hockey games, ice skating class, training for a 5 and 10k). Sometimes it's less positive things (a sick family member).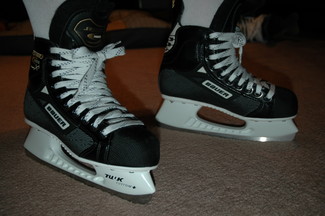 vroom vroom skates!
no, my legs are not stark white — those are socks!
I haven't had much time to blog, read blogs, knit, or spin. I managed to fit in an hour of knitting last night by eschewing an hour of sleep that I probably needed!
Add to this the "Ack! Thanksgiving is Next Week and we have to Plan and Be Ready for everyone!" and I am a little bit overstretched for the time being. Lucky for me, this is a feeling I enjoy for the short term!
E (Poking My Eyes Out) and her DH are flying here to stay with us over Thanksgiving. It will be a crazy fun visit full of way too much good food, DC touristy stuff, E+I babbling about random crafty and geeky things, and the boys doing boy things: perfect!
I am working on planning what LYSes we can visit while E is here. We have been to Woolwinders and Uniquities — was that really it?
I am thinking about Stitch DC (not sure which one), Knit Happens (it was Monday when we did the yarn crawl last time, so they were closed), Aylin's (sale nook baby!), perhaps Knit + Stitch (I've never been there!), and G Street Fabrics as the lone LFS. I'm not sure about anyone's holiday schedules though. I am just trying to plan as much as I can!
My fingers are crossed that I get some time this weekend in between cleaning, home renovations, hockey, and skating to make major progress on the Sienna Cardigan fronts and perhaps even CO the Argyle Vest. I don't want to talk about the fact that I have 38 days to finish two sweaters. Let me get through Thanksgiving first!