I finished the beret early Saturday morning, washed it in some woolwash, and set it up to block on a pot lid (yes, really). Except I thought that the pot lid I tried out first was too small, so I tried another one and it was too large and stretched it out. So really, this needs another wash and block but hey! The knitting's done!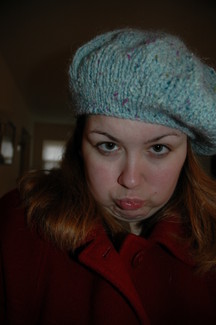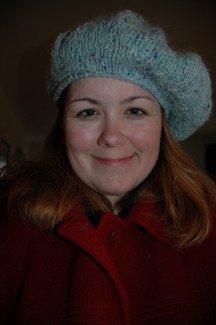 what are digital cameras for if not to make silly faces?
and no, the beret does not at all match my red wool coat
and yes, I had to use the flash because it is so rainy here
Details and other stuff behind the cut.
Pattern:

Tweed Beret by Kristen TenDyke published in Winter 2006 Interweave Knits


Size:

small (18″)



Needles:

Clover bamboo US6; Inox 24″ US6.5 (weird size, .25mm larger than the clovers)



Yarn:

Peace Fleece in Lena's Meadow; 4oz (a few g left over) – Stashbuster!



Start – Finish:

9 Nov 2006 – 11 Nov 2006



Mods:

not that I recall, other than subbing yarn.





tweedy tweed tweed tweed

I think I prefer Colleen's (Subway Knitter) newly finished beret shape-wise. It has a better flop than this one (at least the way I knit it). Still, a fast knit and a cute beret!

I need a quick knit every once in a while — after I finish it, it helps me refocus on my WIPs:


stupid rain. I need a remote flash or a bigger light tent

Yes, I finally started the Sienna Cardigan fronts. I had to rummage around to find my notes about the shaping I did for the back, then I had to rip out 10 rows of one side when I realized that I had worked an extra row and messed up the lace cable. Now we are knitting along and I hope to have the fronts done by the end of the week.

Sometimes though, you also have to start something new:


I'm a bad, bad girl
This is why I only had 4 hours of sleep last night before I got up to run in the mud

Malabrigo/handpaintedyarn.com bulky 6-ply in Pearl Ten. Any guesses as to what it is? It is a sweater and it is for me! I reserve the right to frog this if the yarn starts to look horrible in this pattern, however. This is my gauge swatch? Ha ha.