Tonight, I plan to catch up on last week's shows on the TiVo tonight and cast on the fronts for the Sienna Cardigan. I'm still hoping to finish the fronts by next week sometime.
However, I secretly want to work on a sock and start a beret (for me; from the Winter IK) in some stash Peace Fleece!
I did get pictures of the completed socks on my mom's feet this weekend. Here is one picture (not one I'll be sending with the pattern):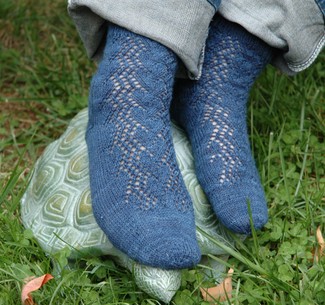 Mom's feet, a turtle, and new socks
Cute socks, huh? I think she likes them. Tomorrow I mail off the pattern and chart and pictures and it should be mostly out of my hair. Woo hoo! I am happy with the pattern and the socks.
I just had 570 comments to moderate. 2 were real comments. The rest: spam. I tagged them all as spam, but ugh. This is why I am behind on replying to comments and emails. Wonder if I can port spamassassin to wordpress… or I enable captcha or something.
I voted today. My line was short enough that I did not have time to pull out my sock and knit on it before I was at the voting booth. I'm not sure if that was fortunate or unfortunate!
Happy Tuesday!