Today we are going up to Philly to see a hockey game! DH and I are trying to see a hockey game together at every NHL arena and Philly hasn't been marked off the list yet.
This brings up the "what project should I take for the drive?" dilemma. I know I should take my Friday Harbor sock to finish since once I finish it, I have a finished pair! But I am so tempted by my Cabin Cove yarn and my All Things Heather yarn and my Yarn Pirate yarn.
Today I am daydreaming about Pomatomi in the gorgeous purple Cabin Cove yarn that Betty (Knitting Betty), my KSKS pal, sent me.
This week, I finished my pattern edits and both socks from the pattern. Tomorrow my mother has agreed to be my foot model, so I should have some good shots to turn in with the pattern next week. I am very happy with the socks. I don't think the pattern is difficult, but it sure is long! Here's a teaser shot of the socks blocking: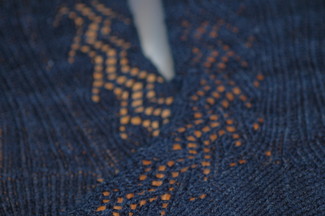 my own pattern; Lorna's Laces Shepherd Sock Almost Solids in Navy
And for Deb (Chappysmom) who celebrates her birthday Monday (drop by and wish her a great one!), here is an awful, dark shots of November on my office calendar obviously taken with my poor cameraphone.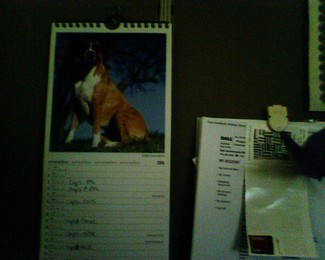 a boxer calendar — these ones are all natural, no cropped ears, just like mine!

Now, back to my dilemma…