I thought I had decided on Jamieson's DK for Eunny's Deep V Argyle Vest. Then WEBS sent me a catalog and I noticed one of their weaving yarns, Shetland from Harrisville Designs.
It is supposedly a sportweight, so I thought I would be able to get reasonably close to the proper gauge with it. It happened to have the right colors, so I ordered a couple of cones.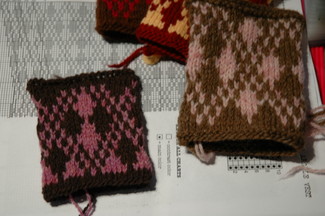 lefthand swatch is Shetland in Cocoa and Aster; other swatches watch
On US4 bamboo dpns, I hit a gauge of 28 stitches and 28 rows over a 4″ square. Pattern gauge is 22 stitches and 30 rows over a 4″ square. On US5, this fabric would be way too loose, so I can't go up a needle size to attempt to get fewer stitches per inch. I am off by 1.5 stitches/inch, which is a lot! I will end up working a larger size.
I love these colors together more than any of the others. Cocoa is the perfect brown, deep, chocolatey, and neutral. Aster is bright, slightly varigated, and pops well against the brown. Here's hoping I can make this work. I am very much looking forward to making this vest — I've never worked such a large stranded piece and I've never steeked — I love learning new techniques! Now I just need to finish it before Christmas… and hope that it fits the recipient.
Anyone have any suggestions on how much negative ease I should go for? Maybe I should email Eunny or post to the KAL.