Last week was a fantastic mail week! In addition to some items I
ordered, I received a surprise!
src="http://www.xantha.org/gallery/albums/craft/DSC_3810.thumb.jpg"
alt="crocheted socks" title="crocheted socks" border="2">

crocheted socks from Deneen, click to embiggen


I have ordered three different scents of Deneen's Whipped Shea Buttah
(click here to look at her
current available scents– they are fantastic) and I received
Ylang-Ylang and Lavender-Vanilla on Saturday along with the above
surprise! Gorgeous crocheted socks in a very autumnal colorway — I
love them! And they fit, which is amazing since I don't think Deneen
actually knows quite what size my feet are. Thanks, Deneen!
alt="sockapaloooza" title="sockapaloooza" border="0">
A quick sockapalOOOza update:
src="http://www.xantha.org/gallery/albums/stash/DSC_3801.thumb.jpg"
alt="socks that rock in lapis" title="socks that rock in lapis"
border="2">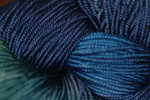 alt="socks that rock in lapis" title="socks that rock in lapis"
border="2">

Socks That Rock, Lapis Colorway

This is the sock yarn for my sockapalOOOza pal's socks! What with the
yarn diet, I have not been ordering any yarn. Since I am allowed to
order yarn for my sock pal without breaking my yarn diet and I have
drooled over everyone's Socks That Rock in blogland, I decided that I
would order sockpal some STR. I ordered it directly from href="http://www.bluemoonfiberarts.com/">Blue Moon Fiber Arts.
Despite a mill problem that resulted in what I was informed might be a
2-3 week delay, the yarn arrived within a week of my order!
It is every bit as gorgeous and soft as everyone has said. Now I am
onto the hard part — selecting a pattern for it that is mildly
interesting without becoming hidden by the gorgeous colorway. This might
mean that I use something like href="http://www.knitty.com/ISSUEwinter05/PATTthuja.html">Thuja.
Only toe-up and with two different sized ribs… I can't follow
any pattern exactly.
Making ribbed socks for sockapalOOOza feels like a cop-out! I want to
make fantastic crazy socks for my sock pal, but not with this yarn,
where an interesting pattern will be obscured by the colorway. [Also,
sockpal does not want lace, so feather+fan/old shale is out.]
So now the question is: will it pool terribly? My fingers are crossed
(I am too … lazy to work from both ends).
These will be my airport/flight knitting for my trip to Seattle later
this week! An added bonus is that href="http://www.pokingmyeyesout.com/">E of Poking My Eyes Out will
get to pet Socks that Rock for the first time.
[and psst, check out href="http://www.pokingmyeyesout.com/po32/2006/02/browsing_as_therapy.html">this
post at poking my eyes out -- there is a little yarn shop in my old
stomping grounds in Bellevue and they have some gorgeous fiber. Oh, we
will be stopping there later this week! Mmm fiber!]