I have not knit a stitch since Sunday. I think it is making me very stressed out to not get an hour or so each night to rhythmically pull yarn through loops! I do think knitting and spinning and crocheting keep me a bit more sane.
However, as we work on the house, I have been thinking about cables. Cables are so much fun. I love cables. Here are the cables I have been daydreaming about with a paintbrush in my hand:

Non-crafty pictures behind the cut.

On a positive note, I may not be knitting, but we are almost done painting the sunroom: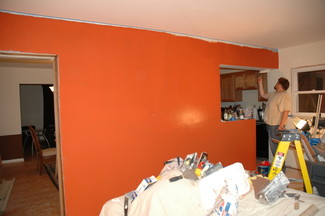 I wasn't kidding when I said orange
Why yes, that is orange!
It's a bit more mellow now and less red-toned. That is the contrast wall — the other walls are a very neutral linen white. I never thought I would choose an orange contrast wall for a room in my house. Red, cranberry, sage? Sure. Orange? Not so much. But it works! [Maybe Claudia has inspired me?]
And hey, anything is better than what this room looked like when we bought the house: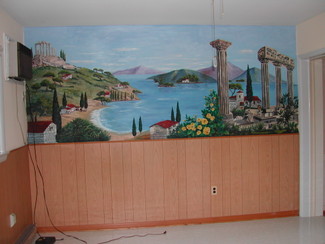 We bought it this way, yes we did. Ewwww.
In fiber industry news, the Tilli Tomas Price Fixing business is an interesting thread to watch. Why? Because I know of other manufacturers who do/did this — like Lorna's Laces. I have seen LL on sale since I heard that LL does price fixing, so perhaps they changed their policies (or someone is disregarding them).
Price-fixing is in violation of US anti-trust law, so I don't really see a question there (when the vendors are in the US anyway; I don't know anything about anti-trust laws in other countries). Also, making the prices so low as to drive competitors out is also a violation of anti-trust ("predatory pricing"). I don't think Sarah's Yarns is doing that, though a lot of small yarn business owners seem to disagree, based upon the comments on the shop blog (it is also hard to prove that pricing is predatory and not just competitive).