DH and I took a couple of days off and headed down to the Outer Banks for a short vacation with some friends. I managed to fit some knitting in between the rain and booze (and subsequent hangover).
I finally finished my Trekking socks that I started back in June and took them on a short trek along Currituck Sound in Corolla, NC.
Yes, the Trek Along With Me Knit -A-Long is over as of two weeks ago, and I am, once again, late!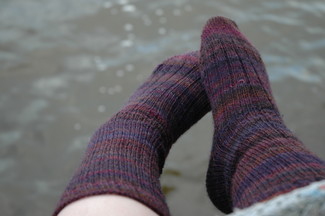 don't fall off the dock!
I love these socks!


Yarn: Trekking XXL #76 from Uniquities (one of my LYSes — shop in Vienna, VA)

Needles: Addi Turbo 40″ US1; Knit Picks US1 dpns

Pattern: er, not really. Toe-up, short row heel, 3×1 rib, increases on the calf since I made these much taller than my normal sock[!].

Start-Finish: 1 June – 15 September 2006. I am slow.

I actually had some issues with these simple socks. I am still not very good at estimating when to start the heel on toe-up socks. I started these heels too early and it wasn't until I had worked a bit up the ankle that I realized it and I had to rip both socks back to just before the heel.
I also started the socks out on an Addi, doing magic loop with both socks at once. I grew tired of that once I reworked the heel, and worked the legs on their own. I don't think it helped with my SSS problems much, but I did end up with a completed pair!
I love these socks despite the non-matchy striping — luckily I expected that — and I would make another pair of socks in Trekking XXL, no problem!