After last week's less-than-spectacular swatching results with the Knit Picks Merino Style and Gleek's comment about how thick Merino Style is stranded [aside: all stranded work feels thick to me, so I'm really glad she pointed it out!] I went looking for other yarn options to try for Eunny Jang's Deep V Argyle Vest.
I finally came around to one of the quintessential yarns for stranding: Jamieson's.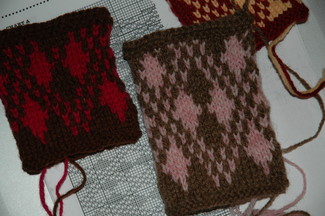 Jamieson's swatching: Coffee and Plum on the left; Moorit and Dog Rose in the center
Each of the swatches was knit on US4 bamboo dpns. My gauge is still off with the Jamieson's: 22 stitches and 24 rows per 4″ square. The pattern specifies 22 stitches and 30 rows per 4″ square and there's just no way I am going to meet the row gauge. I'm not even sure how I would change the way I knit to meet the row gauge but not adjust my stitch gauge! Luckily the pattern is simple enough that I should be able to adjust the row counts without having to rechart everything.
Oh, the colors? I like the way the lighter, heathered colors look together (Moorit and Dog Rose). It's not what I was thinking of, but I think the recipient will like it. The other two colors look so awful together that I didn't even finish a full repeat of the pattern. I didn't think they were going to look good, but it's hard to tell sometimes when ordering from color swatches online.
The Jamieson's is definitely sticky (hooray for steeks) and I had a bit of trouble stranding using my normal method (both yarns in my left hand, foreground color held over my index finger; background color held between my index and middle finger). It got easier as I moved through the swatch so I think I can make it through a vest without too much trouble.
Of course, Jamieson's is going to be a good deal pricier than my other options, but it is a gift and the perfect yarn is hard to come by — so much easier to rationalize.
[PS: finished Rogue. Washed her again. Hopefully I'll be able to fix some of the funkiness at one shoulder seam and top of the hood decreases. Mostly happy, though I really need to stop overestimating how big I am as Rogue is biiiiig.]