I went from squinting at the Rogue hood cable chart to reading boxes on a colorwork chart!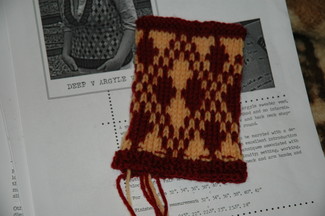 deep v argyle vest swatch for Ronald McDonald
knit picks merino style
I am planning to make Eunny's Deep V Argyle Vest for someone as a gift. I planned to use Knit Picks Merino Style in Cinnamon and Rhubarb.
After reading the posts at the Argyle Vest-Along, I noticed that everyone using Merino Style had problems getting gauge with it. Since I already had some Merino Style in stash, I decided that I would swatch what I had and see how my gauge worked out.
On US4 (3.5mm) dpns, I managed to get a gauge of about 26 stitches and 27 rows per 4″ square, which is still quite a bit different from the pattern gauge of 22 stitches and 30 rows per 4″ square (too many stitches, too few rows! how strange).
However, I like the fabric it makes on this size needle and I do love knitting with this yarn. If the colors of Cinnamon and Rhubarb are right — and I am going to order a ball of each to check and swatch — then I think I will just adjust the pattern to my numbers.
I love the look of colorwork vests and I am often tempted to knit them, but it's not my style and I won't wear them. I love that I have someone to knit for (in secret!) who loves to wear sexy colorwork vests. I think she'll love this sweater. Here's hoping I can find the perfect yarn!
[For the record, I really want a brown and pink combination that looks a lot like the dark brown and bright pink as in this Komi Mitten I knit rather than the light pink and dark brown combination a lot of people have been putting together.]