Boris doesn't want me to show you this FO. He thinks that he is much cuter than a stuffed bear.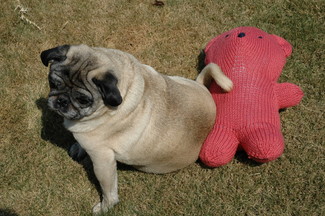 Boris shuns Kara Bear
He's right of course, but this is a crafty blog!

Kara Bear in the Ghetto
Cute, huh?



Pattern:



Baby Bobbi Bear, by Blue Sky Alpacas. Ordered from KPixie.



Yarn:



Blue Sky Alpacas Cotton in Shrimp, also ordered from KPixie.



Needles:



Not sure. They seem to be US9.5, of all things. They are weird plastic needles, but they don't cling at all. Perhaps some sort of INOX (not the metal INOX)?



Started-Finished:



18 August – 24 August



Modifications:



Not many, though on my next one there will be a few.

For the ears, I slipped the first stitch on every row so I had a neat selvedge edge to use to seam to the bear's head.

I picked up more stitches for the arms than specified only because that was what looked better.



My fingers are crossed that the recipient won't see this until it arrives in her mailbox!