Hooray! My KSKS Pal received her package — my pal was Uli of Uli's Needlework World!
I've been reading Uli's blog for at least a year. That made it both easier and harder to figure out what to add to her bag, but I had a great time picking items out and I think she enjoys it.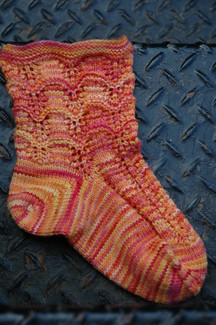 Uli's Summertime Socks
Now that Uli has received her package, I can release the pattern that I wrote up for her kit. I used her questionnaire answers to design the sock, so it is worked cuff-down with a short row heel (backwards yarnover method) and looks great in hand-painted yarns.
My version was knit in yarn that Dave Daniels of Cabin Cove dyed — you should definitely visit his shop, Cabin Cove Mercantile. The yarn was great to work with.
The pattern can be found here. It is currently only available as a PDF. If you do use the pattern, please let me know if you run into any problems!