I harbor delusions that if I'm not sleeping, I must be finding some spinning and knitting time. Unfortunately that's not the case — when I'm sleep deprived these days, I can't focus on anything!
However, I spent Saturday working on this: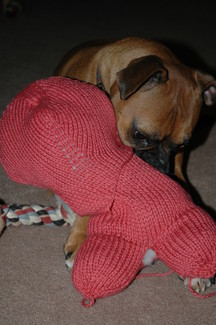 kara bear with a snuggly allergy-suffering boxer
It's the Blue Sky Alpacas Baby Bobbi Bear pattern (I ordered it from Knit Pixie KPixie) in Blue Sky Alpacas Cotton in Shrimp. I wanted a reason to try the yarn and I've considered picking up this pattern for some time now.
I like this pattern because it doesn't involve making pieces and attaching. Instead, in most cases you pick up and knit onto the body. One change I will make the next time is to use a provisional cast on for the initial cast on since I am displeased with the way my pick up and knit line looks where the leg and body meet. I also want to make the butt a little more puffy, so I will probably use more short rows than the pattern specifies. While the pattern suggests using a heavy worsted weight yarn or doubling a sport weight, I think it would look fine in a worsted weight yarn and still be a nice size (this bear is about 13″ tall!).
I just finished the ears but have not attached them yet. I also still need to pick up and knit the arms, but I can't get them to look right (see above: sleep deprivation). In any case, it should be a cute gift for a cool recipient! The pattern is well worth it as I forsee making a few more of these.
Plus, who doesn't like a cute stuffed animal?