Given these (or most of these) qualities, what would you suggest:


12 balls of Rowan All Seasons Cotton in Dusky (a dark denim blue shade)

1 ball of Rowan All Seasons Cotton in Blackcurrant (a purpley-pink shade)

worsted to aran gauge … (I haven't swatched yet, but I should fall in here)

34″ chest

an inch or two of ease

textured (cabled or a good texture) pattern, but not ostentatious

cardigan

waist shaping

no hood

not casual looking (ie: business casual dress friendly)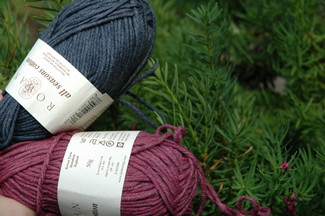 What would you make as a gift for someone? I was going to make Scoop du Jour, but now I think I need something with a little more interest … and so I am in the "design it myself" phase.
I'd love any suggestions for sweaters you know of that meet most of these constraints. Even if I don't use a pattern, I might use a design feature of it! Plus, who doesn't like to look at patterns?