When I got home from work yesterday, there was a package on my front steps.
I assumed this was my recent order at Knit Pixiekpixie (I ordered this Karabella pattern– apparently I'm the first to order that pattern, so you can see what else I bought at the bottom of that page).
I carried my groceries to the front door and peered at the package.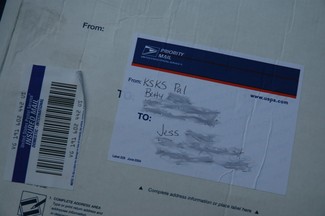 KSKS package!
Whoa. It's not my package from kpixie — it's my KSKS package from my no-longer-secret-pal, Betty of Knitting Betty!
Although I was tempted to tear into the package on the front steps, I took it inside, took the dogs out, and put the groceries away first.
Then, I finally let myself open the package. The first thing I pulled out of the box was a huge ziploc bag of yarn!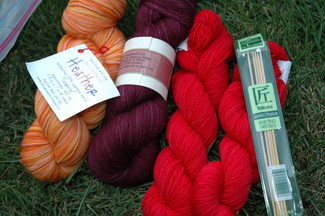 a whole lot of sock yarn!
Whoa! That's a lot of yarn! We have two hanks of a gorgeous red Koigu (yum!!), variegated orangey/yellow yarn from All Things Heather (yum yum!), and an almost solid aubergine shade dyed by Dave over Cabin Cove (yet more yum!). Whoa! Wonderful yarn, and all yarn I would have picked out myself left to my own devices. Also included is a set of US1 clover bamboos. I am in awe!
Obviously, Betty already went above and beyond. However there was more stuff in the box!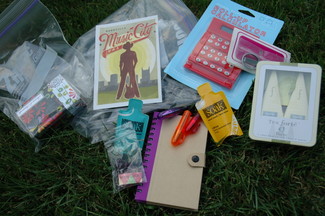 the rest of the loot
Yowza! What's all this?
First, a postcard from Nashville! [this reminded me that I totally forgot to put the Washington, DC postcard in the package to my KSKS pal -- oops! Sorry pal. ]
A little notepad, the perfect size for carrying around with my socks-in-progress. Little pens, also the perfect size! A rolling calculator, which I think is so cool. After taking four years of insane calculus, I have trouble with basic math. It's like when you start working integrals in 20 dimensions, you forget how to divide!
Folding scissors, perfect for me since I keep losing all of my scissors. Two different types of a brand of wool wash I've never seen. A bar of delicious smelling soap — DH and I are soap fiends! Some jasmine tea in silk tea bags — yum!
Lastly, a beaded row counter from Mama Llama that I couldn't get a good picture of, but it is so cool, with dark purple and clear beads, and a sheepie bead.
Thanks, Betty! I hope you and your family have a great trip and I look forward to chatting with you when you get back. I love the package you sent!