I've spun up half of my Great Balls of Fire Sock Hop roving from Crown Mountain Farms.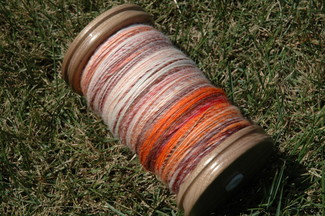 goodness gracious
I am completely addicted to this stuff. It spins so easily. I discovered near the middle of the first 4oz that I could spin it a lot finer than I was, but I really want a sport weight, so I am trying not to spin it overly fine.
I can't wait until I finish spinning up the other 4oz — I'm hoping I will have enough for tall socks!
When I got home from work yesterday, there was a box on the stoop from Boston.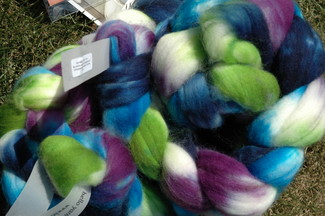 superwash merino roving from Hello Yarn
Yum! Gorgeous superwash merino roving from Adrian at Hello Yarn. I have been waiting for the perfect combination of budget, colorway, and fiber amount and it all came together in this, two 4oz superwash merino braids in the colorway Big Top.
It is exactly what I wanted and it's next in the queue after I finish the Great Balls of Fire roving. I cannot wait to spin this up. I love these colors together!
Yum! I am obviously on a spinning kick here [she says as she goes back to knitting on her Rogue for the first time in months].