Thank you for creating the softest, best-prepared superwash fiber I have touched. I constantly found myself wondering if the Sock Hop Roving is really superwash merino! It is so enjoyable to spin, and such a great value!
If you're a spinner, go buy some! $17 for 8 oz of handpainted superwash merino is a great deal and they have great customer service.
Back in July/August I read about Cara's Sock Hop socks (also her knee-highs-in-progress), Yahaira's Sock Hop Socks, and Theresa's spun up Sloopy — it was enough to make me order 3 more bobbins for Lenny (I was holding off, considering a WooLee Winder, but eventually just opted to order Lendrum bobbins instead).
I ordered 8 oz of Great Balls of Fire and 8 oz of Moondance. I started with Great Balls of Fire.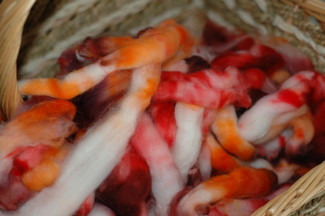 great balls of fire superwash merino
It took me approximately one million years to spin the full 8 oz, but it was the most enjoyable fiber I have spun yet.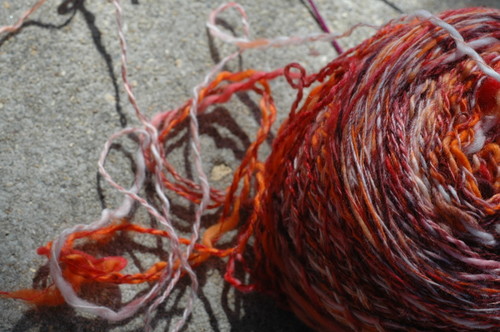 spun and wound into a cake for knitting
Last Sunday I finished spinning and plying it. I could not wait to start a sock with it, so I did so the very same night.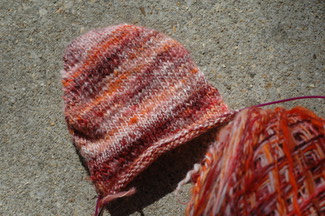 handspun sock
That's some powerful fiber!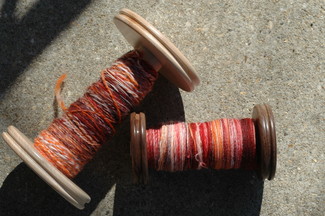 leftovers
I did have some left over. I got a little excited while winding the plied yarn off into a hank and I broke it (oops). I also apparently spun the first bobbin worth a little thicker than the second, and I still have quite a bit of thin single left on the second bobbin. I will probably Andean ply it and use it for something small.
I am overall happy with my singles spinning, though I really could have been more consistent. I am getting better.
My plying is not very good, frankly. It should be a bit tighter in spots, but I had some issues since my first bobbin of singles was slightly thicker than my second bobbin. My second bobbin was also much more consistent. I think part of this was that the first bobbin was spun up in August, and the second not until January/February!
Also, the first bobbin I spun mostly from the fold, which blended the colors within the single a lot more than I wanted (I realized this while spinning but I enjoy spinning from the fold so I kept on). The second bobbin I spun more closely to how the roving was dyed and it looks much closer to how I wanted it to look. This is why the resultant fabric is not striping nearly as much as the sock hop yarn you can buy at Crown Mountain Farms. I still like the way it looks, however (phew!).
I am proud that I finished a spinning project and that I am going to get exactly what I want out of it – funky handspun socks! I am almost to the heel on the first one. This yarn is just as addictive to knit up as the fiber was to spin.
Now I need to figure out what the next spinning project is. Either the Moondance sock hop roving, Big Top roving from Adrian over at Hello Yarn, or possibly a poof from Grafton Fibers!