I haven't done this in a while — but Scout started a UFO meme, and I should really get a handle on my WiPs and UFOs.
Garments




Rogue. Rogue is sitting at around 75% done. I will finish it for winter, I swear. I'm at the flat knitting part and the oiled Peace Fleece from the cone is wrecking my wrists! I love the sweater though, and really want to finish it for winter.

DH's Peace Fleece sweater. 10% done. Hoping to finish this before December.

Premiere Lace Cardi. 30% done? The back is done and one of the sleeves is about 1/3 done. I am just winging it and I think it's starting to stress me out!




Socks




lace socks I designed #1 — blue Lorna's Laces almost solid. 40% done.

lace socks I designed #2 — Cabin Cove Dave yarn. 50% done.

grey-rainbow twisted rib socks. 50% done.

tall Knit Picks socks. 50% done.

canal du midi socks. 20% done. I will probably frog this sock. Not happy with it at all, sadly.

Trekking XXL socks. 50% done — past the heel on both socks but tempted to frog the heel and lengthen the foot a little.

DH's plain black socks. 10% done — one toe complete! He has big feet.

Ellen's 1/2 Pint Farm ribbed socks. 50% done.




Spinning:




merino/tencel. 45% done. 4oz left to spin, then plying!

Winter/Kooler+corriedate. 10% done. Lots left to blend and spin! Fun but time consuming!

Grafton Fibers merino batt. 10% done. Slippery!

Corriedale pencil roving. 50% done. 4oz left to spin. Single ply. Love it.




Other:




Lace Leaf Shawl in burgundy wool. 10% done.
That might be everything… ha!
In sewing news:
Last night I finished a zippered pouch for my KSKS pal that matches the bag I already made her.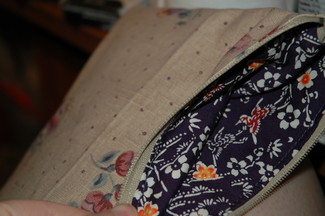 whee, zippered pouch that needs ironing
I followed this tutorial by Anna at Twelve22, which was fantastic. I still had some novice problems, but nothing I couldn't eventually (mostly) overcome. It still need ironing obviously.
Oh! and I found my missing sewing machine bag o' goodies! Now I have 50 bazillion types of feet for the machine and another seam ripper and more plastic bobbins. Hooray! That zipper foot saved me a lot of headaches (and caused a few), I'm sure!
Project Runway is on tonight and I can't wait!