I'm in that post-project completion period where I keep picking up different WiPs and working on them for a while before I realize I just want to start something new. It's a frustrating place to be!
Yesterday, I popped into the LYS to pick up something for my KSKS pal. I checked the sale nook, I looked at patterns, I looked at cotton yarns, wool yarns, sock yarns… I couldn't find anything I wanted. It was sad, really. I felt like I was sick! I ended up picking up some Baby Ull, which is my "I must buy some yarn to stash" yarn these days.
I am glad I didn't buy more yarn because when I got home, there was a package sitting on my front steps. I looked at it and thought, "I don't think I ordered anything. Did I? No. It must be for DH." Except that once I got to the package, I saw that it was addressed to me! I checked out the return address and it was G (of ChezDavis). "Ohh! Fun! I know some of what this is!"
Inside, all kinds of fun stuff awaited!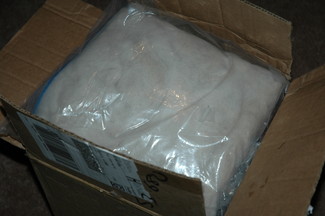 a box o' fun, with fuzzy fuzz on top
More fiber from
Winter and Kooler
to spin (I'm currently blending it with Corriedale which is working out pretty well!). Cherry Tree Hill Possum Lace — two hanks — in a gorgeous red-purple colorway.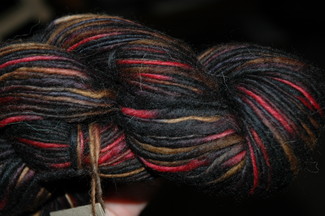 mmm mmm manos
4 hanks of Manos in Lava. Some really cool coffee mug and coffee bean fabric — I think it will end up as the lining of a bag for me. Lastly, a set of really cool plates! DH likes the plates, too, which is so cool!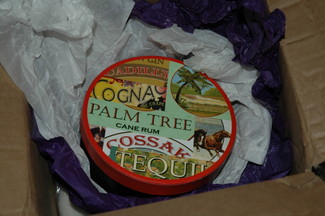 i think the cognac one might be my favorite
It was a great package from G (
ChezDavis
— check out her
finished entrelac baby blanket
) and E (
PokingMyEyesOut
— check out her
finished Michael Kors Aran top
). Thanks guys!
I'm hoping that on Sunday I will be able to get a picture of the FO I finished earlier this week on the recipient (fingers crossed that it fits her). I made a 44″ sweater in about three weeks, while not having a heck of a lot of knitting time. I'm impressed. I also really like it, but alas, it's not for me (but you can see a bad shot of me trying it on here before I bound off the neckline).