First though, here's my Saturday Sky for Sandy: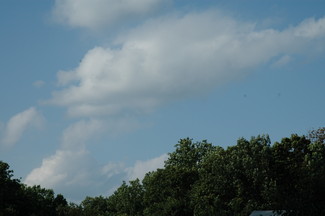 this was a couple of hours before the grey clouds came in and dropped a ton of rain on us
When I made my last test bag, I came up with a few rules I wanted to follow this time. I did follow them: I drew a pattern on newsprint before I cut the fabric, I split the project up into different nights, and I changed how I sewed up the strap a bit. I did a good enough job that I am not embarassed about sending the bag to my KSKS pal, though yes, it could be better. I fought with my machine quite a bit today — the thread kept acting up.
Okay, okay, here's the full shot: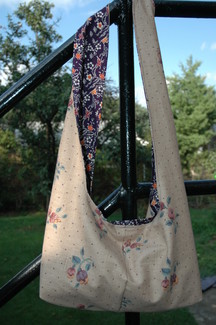 KSKS bag
Project Specifications:




Pattern:



Tiny Happy's Shoulder Bag Tutorial (with some very minor construction modifications)


Fabric:



~1 yard of drapery remnant; ~1 yard of quilting cotton


Started-Finished:



15 July 2006 – 22 July 2006 (total time: ~4 hours)

More pictures and short discussion behind the cut.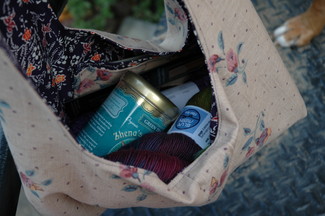 the bag packed with loot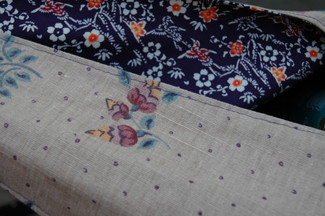 outer fabric, lining fabric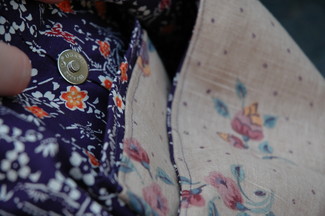 inside pocket and magnetic snap

I had some issues with the magnetic snap. I like it a lot, but I think that it is too heavy for the thickness of these fabrics. The outer fabric is fairly thick, but since the snap is attached to the inner fabric, it's a little thin.
The inside pocket also gave me some headaches. I couldn't get it to look the way I envisioned it in my head, so I gave up and made myself content with making it look decent.
I still cannot sew in a straight line! I have gotten a little better, and I took extra time with this bag so it doesn't look completely horrible. It is still very much "homemade."
I like the bag in general, and I hope my KSKS pal does, too. I still need to pick up a couple of extra things and to finish writing up the sock pattern I'm including. Here's the sock prototype I made for the pattern pictures: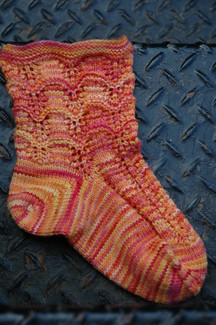 please block me!
the yarn is some of Cabin Cove Dave's gorgeous, soft sock yarn [you can buy some here]
the sock is based on a Barbara Walker stitch pattern, knit on Knit Picks US1 dpns
Phew! I was trying to post this last night, but my WSP was having serious issues.