I have been trying out this project monogamy thing. It wasn't intentional, it just happened. I was enjoying this knit so much and once I got to sleeve island, I just wanted to finish the major knitting part!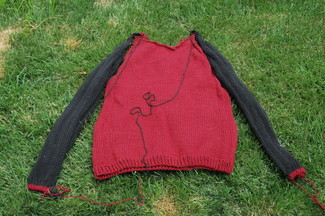 holiday sweater #1
The sleeves look strange because they're ribbed. They're wider than they look (that's why the shoulders look strangely small).
I like it, though I fear I might have to shorten the sleeves a bit. But as I pointed out to E (PokingMyEyesOut) earlier this week, sleeves shrink a bit once you seam them in and put an arm in them! So I might be okay here.
I'm hoping to set the pieces to block tonight and finish the sweater this weekend! That will be my first holiday knit done. And it's only July. Hooray!
Also this weekend, finishing my KSKS pal's bag and the sock pattern writeup.