My sock kit pal indicated that she'd love some Socks That Rock, and I can't say I blame her. I made my sockapalOOOza pal her socks in STR, and it was great to work with! So of course, I opted to order my kit pal some STR.
When I ordered, I asked Melissa at Blue Moon Fiber Arts over email if she could think of a colorway that was mostly purple, blue, and red. She suggested Rolling Stone, which I recall seeing at January One (doesn't Cara have every color?), and sure enough, it looked like it fit the bill.
I also ordered a hank of Azurite as a backup plan — here are Cara's azurite Jaywalkers — since my pal mentioned a purple preference and I decided that if Rolling Stone didn't work out, Azurite would be great.
I received the yarn today! Hooray!
But now I have to decide which colorway to send her!
Pretend you are my sock kit pal and prefer purples, reds, and blues. Which yarn would you prefer?
STR Rolling Stone — purple, teal, navy, cranberry, and an olivey-kiwi color: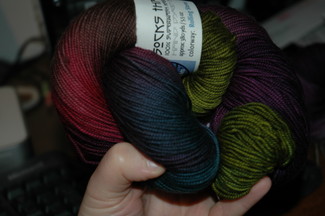 STR Azurite — white, black, shades of purple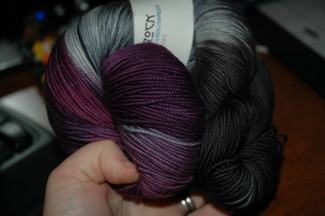 I may have to just send both!
[indoor pictures brought to you by storms outside.]