Project Runway 3 premieres tonight and I am ready for it:
Last night I went to G Street Fabrics and picked up a bunch of fabric. The drapery remnats seemed to be a good deal — $3.98/yard for some really cute, thicker fabrics perfect for the outer layer of a bag.
DH had a business dinner last night and I jumped at the chance to have the evening to myself, so I set out to follow Melissa's (of Tiny Happy) shoulder bag tutorial.
I don't have any process pictures and the bag isn't completely finished yet (I forgot to seam up the hole in the lining), but I did manage to make one! It is very cute, and it will be the bag I make my KSKS pal (in different fabric of course)!
Pictures beyond the cut.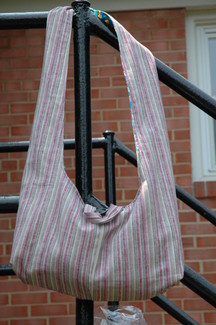 a full shot of the bag. Hmm, it looks like there's something in it.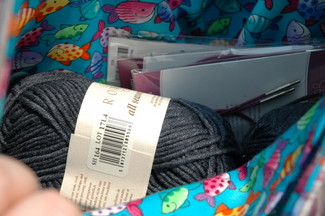 there is stuff in it!
[and yes, that is stash and tool enhancement. gift sweater stash.]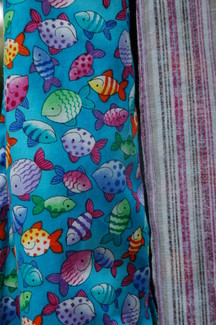 what, you want to see a closeup of the fabrics I used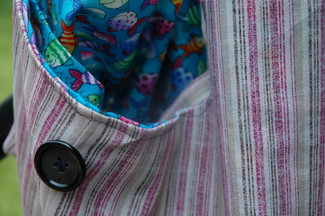 and maybe a goofy view of the button (which I don't like much) and the lining

DH asked me why I paired such boring outer fabric with such a "goofy baby" lining. That's just what I do! I always have a very subdued outside, but I love to have a colorful, funky interior. I don't know why. It's similar to how my work clothes are sometimes plain and boring, but I usually wear funky, colorful socks.
Random sewing things for me to remember for next time:



don't seam the straps all the way to the end next time, it will make it easier to machine sew the outer fabric together at the top of the strap.

make a real pattern piece first on newspaper (or something) with chalk/markers OR get better draw-on-fabric markers/pencils (this was the worst part for me)!

for the pattern, draw HALF of the bag, then use that to make the second half so it is symmetrical.

figure out how to sew in a straight line (HA HA HA)

stop accidentally pressing down too quickly on the pedal!

once I am tired, I NEED TO STOP. Perhaps split the project up into two or three parts — prepping fabric/cutting the pattern, then sewing the two pieces separately, then the finishing and sewing them together. Once I got tired, I got lazy — this means that the outside details of the bag don't look nearly as good as they could.

I'm learning, slowly but surely.
I think I will make one more of these as a test, and then onto my KSKS pal's bag, which I hope to finish this weekend.
Speaking of KSKS, I got a report that the yarn I ordered for my kit pal was shipped out from Scappose, OR… [cue my insanely happy bouncing around.]