When I am frustrated, I like to do two things. The first is work on something simple that shows progress quickly (see holiday sweater 1). The second thing I do is buy stuff.
I have been so frustrated for the past week that I've bought shoes, fabric, yarn, a new omelette pan, books, and cds. Oops!
Two of the many scores: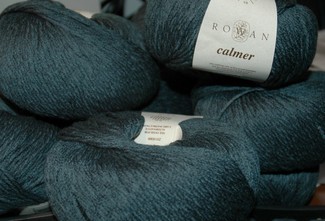 rowan calmer in peacock for audrey
Knit Happens is having a sale [!!] on Calmer [!!!] — $8/ball! I've been planning to knit Audrey for almost forever (I think I ordered Rowan #35 about a year ago) but I scrapped my original plan to use Cotton-Ease and I've just been holding off on picking up appropriate yarn.
I noticed the Calmer on sale a while back — a month ago? Maybe more. I avoided buying it then, but when I came across it a second time, I decided it was worth it. I love the color for fall. One of my coworkers said it was a very masculine color, which is true, though I don't think anyone will be confused once it's knit up into Audrey!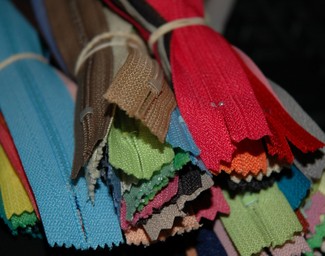 zippers from zipperstop
I forget now (doh!) whose blog I saw mentioned that Zipperstop sell lots of zippers on ebay for cheap prices. I got this set of 100 zippers between 4-8″ long for $20. Given that I spend something like $3-5 or more at the fabric store on one zipper, I decided these would be perfect for the inner pocket of bags without breaking the bank. I am pleased!
Today I picked out a different bag pattern for my KSKS pal — it's actually a diaper bag from Sewing 101 (the orange book). My thought is that it would work great as an everything bag — yarn, everyday things — and by using non-pastel fabric, it shouldn't look especially diaper-bag-like. I'm hoping to pick up some different fabric for it this weekend and start working on it.