I have been absorbed in the holiday sweater all week. Mindless knitting in the round, very few purl stitches, and the body is working up fast (12″ now, almost time to split for the front and back).
This means I have been ignoring my Trekking socks for Trek Along With Me and my lace projects for The Amazing Lace. Ignoring. Completely. I suck.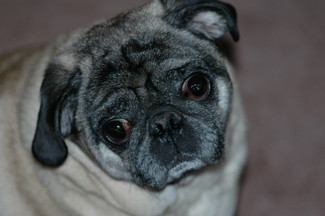 boris the ham
Boris has had some medical issues recently. Pigmentary keratitis leading to some vision loss in both eyes, a recurring ear infection, and general malaise. He has been choosing to nap in his crate rather than hang out with me in the basement (or DH in his office) in the evenings, which is very unlike him.
I've been worried about him (he's on a number of medicines) and I've missed his snoring while I knit on the couch. Last night he wandered downstairs, found me on the couch, and waited for me to tell him he could jump up. He snorted on me and then snuggled up against my left leg and started snoring as I knit along.
I think he's feeling much better. I am too. My knitting partner is back!