I just wouldn't be me if I didn't have 20 projects in progress at once.
Last night I started some holiday knitting.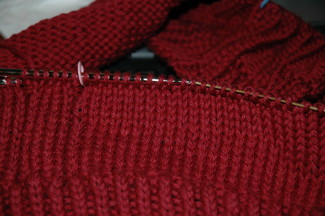 knit picks main line in red velvet cake – thanks Bron!
'
So far, so good. It's a bottom up raglan worked in the round (most of the way) with some … details. We'll see how it goes (yes, I am making up this "pattern").
[the project count? it is sad. Rogue (still hurting my wrists, but I will finish it by December, dammit), lace cardi, PF sweater for DH, this sweater, about 5 or 6 different socks OTN, my log cabin lapghan, and a crochet project. I am sick. Or you know, maybe I have a problem with my attention span.]