Today I went to the fabric shop and bought some thick interfacing off of the bolt and picked up the appropriate size bobbins and needles for my machine. I got home, finished cleaning the house, washed some more fabric, and decided to put together my first Jordy Bag (craftster tutorial).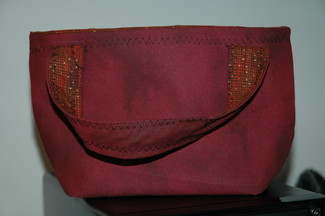 the bag looks much worse in person than photographed!
This is Alpha. I would not foist this bag on anyone (though I think I will use it inside other bags). It has a multitude of problems including a part of the outer fabric where it just split along the seam, crooked seams, and a poor inner fabric corner (where I pulled the outer fabric through the inner).
Good things: the size is exactly what I was aiming for. I like the way the fabric worked out. DH's suggestion for the handles worked out more or less.
Changes to make in Beta: leaving a larger opening on the inner fabric for pulling the outer through it, trying to use inner-attached straps instead of outer, focusing more on nice, straight seams, adding at least one pocket to the inside (this may mean that I need to make the bag a few inches larger all around, which is okay).
Other KSKS progress: my first sock in the pattern I am writing for my sock pal is past the heel, yarn is ordered for my pal, but it is going to be a little while because it has to be dyed.
This is a fun swap for me — I get to buy yarn, figure out how to sew, and write a sock pattern. I just hope my swap pal will enjoy everything!