Today, I woke up before 8. I never wake up before 8 on the weekend, and certainly never on Sunday (house cleaning day). Maybe it was because I was so sore from 6+ hours working on the front yard on Saturday. Whatever it was, after being awake for two hours and taking the dogs on a 2 mile walk, I was ready to go shopping.
I didn't plan to go into JoAnn's, but the store I was going to didn't open for another 15 minutes, and JoAnns was right next door and open. I have a Knit Sock Kit to make for my sock pal, and while I have bits and pieces of the kit worked out, for the actual bag I do not other than planning to sew it (and having a couple of patterns in mind).
JoAnn's had fat quarters on sale. I love fat quarters. I started buying fat quarters when I was about 8 — there was a craft store right next to the grocery store my mom used to shop at. I only hand-sewed then, and not very well. It didn't matter: I loved the colors, the softness of the cotton, the fact that they fit into my 8-year-old budget.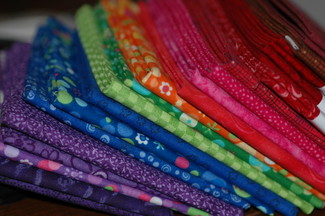 I love fat quarters, especially when they are on sale
Not much has changed in twenty years.
The cashier at JoAnn's asked me, "are you making a quilt?" I blinked a little, and said I wasn't sure. She smiled and said, "ahh, you must just be adding to the stash." I giggled and agreed. I am well-acquainted with stash.
The biggest problem with buying fabric (and I have quite a stash of fabric these days) is that I have not used my sewing machine at all. I bought it, turned it on to make sure it worked, and promptly left it sitting on my desk. I never used a sewing machine in home economics in school (that I recall). My mom always seemed to be wrestling with her sewing machine (but she used to make really cute Halloween costumes for my siblings!). My sewing machine, I was quite scared of it.
More behind the cut.

After brunch and a few chores around the house, I decided it was time to find the bag of accessories that came with my sewing machine. I cleaned off my desk, went through two bookcases, all of my craft books, fiber, fabric, yarn, camera lenses, bills … no bag of accessories. I got really angry at myself for misplacing it.
I took a break and knit the heel of a sock to relax. Ahh, short row heel, how I love thee.
Post heel, I checked Simplicity's page for my machine, which said that in that bag was: All purpose foot, Zipper foot,Button attaching foot, Buttonhole foot, Roller foot, Blindhem foot, 1/4″ straight stitch foot, Needle set, Screwdriver(s), Bobbins, Seam ripper.
That's a lot of stuff! I inspected the machine, and ascertained that the all-purpose foot was already attached, a general weight needle was already inserted, and one single bobbin was in the bobbin holder, already pre-loaded with pink thread.
I decided that I could pick up some spare bobbins and needles at the fabric store the next time I went and that what I had was sufficient to play with the machine at least.
Play I did! I ironed the fabric I pre-washed last weekend, cut the fabric, and then made two things — a pillowcase (yes, I can mostly seam a rectangle) and a weird bag-like-thing. I misread directions on the bag, so it er, isn't what I actually wanted.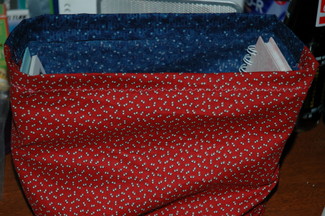 weird bag like thing, will probably become a top-of-desk container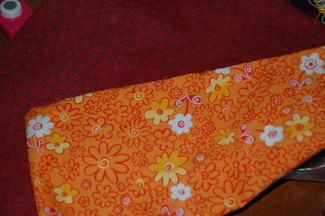 pillow — orangey and red
The biggest progress I made today is that I am no longer frightened of my machine. I expect it to frustrate me soon enough, but today I really enjoyed using it. My machine and I — we have come to an understanding.
[I do wish it had a thread cutter right on the machine though, like E's (PokingMyEyesOut) Bernina. But hey, you get what you pay for. ]