Last week, I was intrigued by the Knit Picks Options needles and since they allow for buying them piecemeal, I ordered a 40″ cable (they come in sets of 2) and two sets of tips (US5 and US6). They arrived yesterday along with some yarn I need to complete a secret present sweater and two sets of dpns.
I've used other interchangable needles — Boye needlemaster, Denise — and I didn't like any of them. I didn't like the join on the Boye, and I find the Denise needles to not be pointy enough, the plastic to be a bit of a drag (ha ha), and the cable to be a pain in the tush.
These however, while a little fiddley (having to use the torque key to securely lock the end), are quite nice. I like the join. I love the cable! I love the tips!
When I pulled the cable out of the bag, I was amazed at how it was not kinked up despite being in the bag wrapped up. I surmised that must mean that the cable couldn't bend as much, but in my quick testing, that didn't seem to be the case.
Another interesting thing about these needles is that they come with caps for the ends so you can use them as straight needles. I do almost no knitting on straights, but it's a benefit for those that do.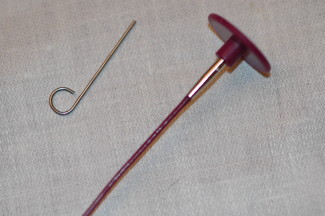 end cap on cable + tightener key
Are you curious about how the tips compare to your favorite pointy needle?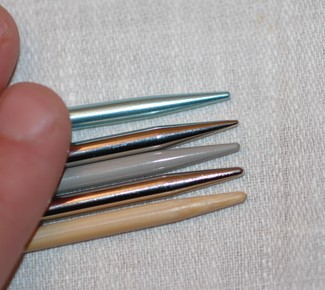 tips of US5 needles
top to bottom: susan bates silverlume, knit picks option, inox grey, addi turbo, clover bamboo
The Knit Picks Options are much pointier than all of those examples. I have recently decided that the INOX grey needles are my favorite needles unless the cable has to be longer than 24″ (at which point I switch to Addis and curse their blunt ends).
I haven't actually used them yet, so this is a mostly blind review. I am going to order another length cable and tips to work on a certain sweater in the round, which I think will be a good first test.
Price-wise, they are inexpensive. One cable ($3.99 per set of 2) and set of tips (tips range from $3.99 to $6.99 depending on the size) costs about the same as one INOX needle, and much less than an Addi Turbo. Since I tend to have a lot of projects on the needles at once, if I go with this solution, I will need to have many additional lengths of cable, but it should still work out cheaper in the long run.
Other reviews I've read that cover other topics (like the lack of having the sizes marked on the tips, which does suck):