Back in March, I think I read it on Deb's (ChappysMom — check out her completed Celtic Dreams) blog that Jennifer over at Major Knitter was looking for sock yarn scraps. Coincidentally, I had just pulled together mounds of scraps of sock yarn (which, in my short-sock-loving world are really whole balls of sock yarn) and was planning to offer to give them away here on the blog.
Instead, I sent them to Jennifer, because she was working on a secret charity project and I decided I would love to help her out.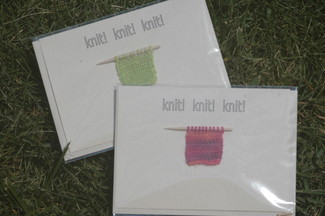 cute charity knit notes

On Saturday, I received a puffy with these two notes in it, made from sock yarn scraps I sent! I took a terrible picture, but they are the coolest note cards ever. You can see pictures of her process here.
She has not listed them for sale yet, but will be shortly!