I have been in a bit of a funk recently. Craft-wise it started once I finished the knitting of Tovesta last week. I did pick up a ton of fabric so I might actually finish the bag at some point.
I finally picked up the Leaf Lace Shawl on Sunday night and worked one 10-row repeat. Last night, I worked another repeat. I felt better. Maybe lace makes everything better?
I am going to try to keep doing one repeat a night. I know that every repeat means the number of stitches on my needle grows by 20, so this is rapidly taking me longer to work a row, much less 10 rows! But it's a nice thought.
So here's one of the usual crumpled, un-blocked lace-in-progress pictures: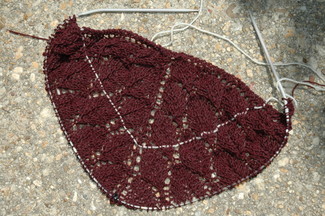 leaf lace shawl, unknown yarn, inox US6 29″, on my sidewalk for contrast

I did sign up for the Knit Sock Kit Swap that Scout and Beverly are running.

I think it is going to be fun! I am planning to sew (gasp!) the bag, if I can come up with a cute pattern to sew.
I'm also planning to write my own sock pattern… but we'll see how that goes. I have other options if that doesn't work out!