The weather here today was supposed to be rainy all day, so I had planned inside activities to do. Then it was gorgeous, sunny and breezy and not too warm, so around 17:30, I decided to take the dogs and my socks out for a trek.
We didn't go on a "real" hike, but we did go to
Upton Hill Regional Park
, which is a park with wooded trails that is walking distance from our house. Both dogs seem to enjoy walking there. We tend to go on walks long enough to wear Boris out, and short enough to just whet Ginger's walking appetite!
Today, we paused on one of the trails to take a shot of my Trekking XXL 76 socks on the trail.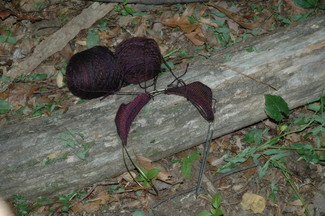 two toes on one 40″ US1 addi turbo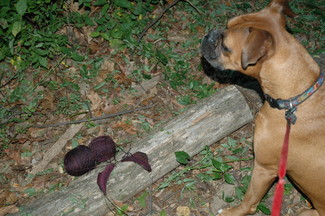 ging wants everyone to know she's trekking along too

This is my first time working two socks at once on one circular. So far, so good. This is also my first time knitting with Trekking XXL — I always thought it was rough in the skein so I never bought any. Now that I've worked two short row toes and a few rows beyond, I've discovered that when worked up, it really is fantastic! I hope everyone else is enjoying their Trekking!