I think my household got confused yesterday, and we combined Dogs Steal Yarn with I Sniff Yarn and ended up with this: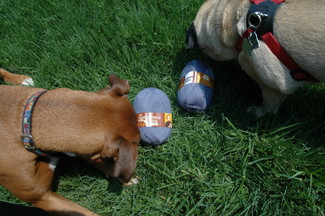 boris and ging sniff the new yarn

What's this? Yes, more laceweight stash enhancement. It was inexpensive, it's Russian, it's ethereal, and I love it. 100% wool, seems to be cobweb weight [!], or at least quite a bit thinner than my Zephyr (I didn't check the WPI).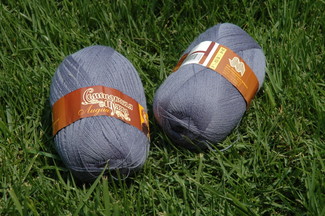 yummy tiny yarn [click to see huge, detail pic]

I ordered the yarn from this Ebay store, which ships from Kiev, Ukraine. It was fairly quick arriving here in the DC area and the prices + shipping are very, very reasonable.
The color is a little different from what I thought. It's a steel blue, much more blue than grey — I expected more grey than blue (here's the ebay listing, which calls it "Slate Grey"). However, I love it. It has an interesting depth to it. I have 200g of it, which is 3530 yds [!!]. Do I have any idea what I will make with it? No. But perhaps the Sampler Stole in A Gathering of Lace.
I won't be swapping out my The Amazing Lace team, but I will say I am slightly tempted!