The first challenge of The Amazing Lace is to introduce the team. Here at The Fiber Fetishist, we are a big fan of teamwork and relays, so we have two relay segments in addition to our collection of supporters, and much overlap between the teams. The team selection process was very involved and everyone on a team has a very important part to play.
Let's meet everyone behind the cut!
First up, Team A, the Leaf Lace Shawl Team: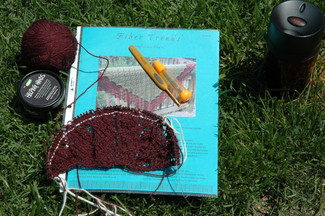 Team A:


30″ very pointy INOX circular needle in US6 — the better for knitting together!

orange chibi — with a tiny seaming needle, the better for weaving ends in with

Clover Soft Touch crochet hook — to help pick up stitches

burgundy fingering weight wool yarn acquired in a trade with Deneen of Yarns and Musings — very easy to work with, and happy to be tinked

Lush Helping Hands hand lotion — to keep the hands nice and smooth

a coffee mug full of coffee — gotta stay awake to see those holes!

Fiber Trends copy of the pattern — large charts are great for late-night knitting!

Of course, we can't forget the two most important members of the team: the white Koigu (yes, I use Koigu for scrap yarn and lifelines) lifeline and the blocking boards!
Next up: Team B, the Premiere Lace Cardigan Team: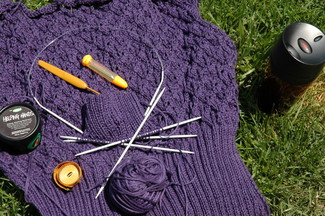 Team B:


CEY Premiere in aubergine — great color, soft yarn!

INOX size 5 circular and INOX size 5 dpns — pointy and smooth, perfection

the orange chibi — bright and cheery, with pointy needles

Clover Soft Touch hook — we always need some easy method of picking up dropped stitches

a tape measure — necessary for the math requirements

Lush Helping Hands hand lotion — good for breaks and smoothness of hands

a large supply of coffee — yum

Two members of the team are not displayed here: Math and blocking boards. Math is probably the most important part of this team since there is no pattern for this project! The blocking boards and pins are quite important, but they are sitting on the bench until the time comes for them to jump in.
Finally, the Supporting Team:
Mr.TiVo, who keeps me entertained while I knit and tink, knit and tink (nevermind that I might get more knitting and less tinking done if I weren't distracted by House or CSI).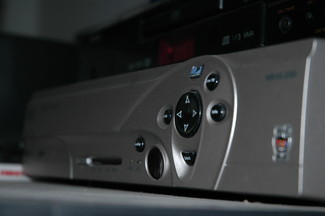 The light, which illuminates the tiny stitches and holes, the couch which keeps me comfortable while I yell at myself for dropping stitches or misreading the chart, and the blanket that keeps me from freezing in my basement!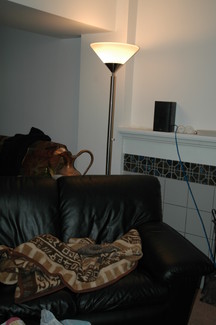 Ginger, who makes me take breaks to play with her every so often.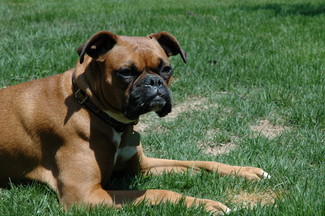 Claw, who likes to help tink back rows.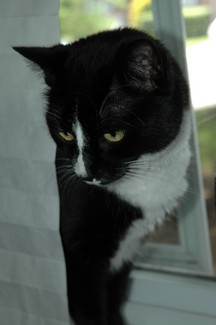 Boris, who is content to snore at my side in a fantastic knitting rhythm.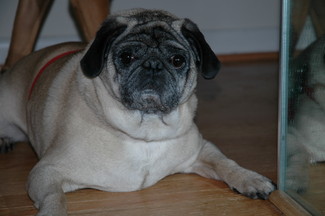 And, if it gets really bad, we can pull out the big guns: wine and/or Seagrams 7!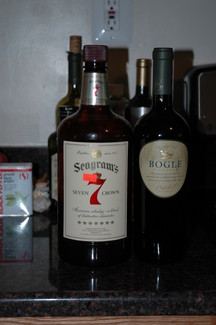 The FF Lace Relay Team wishes good luck to everyone else competing and don't forget to have fun!